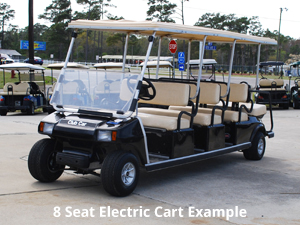 Our 8 seat stretch limo golf cart rentals are the ultimate family sized vehicle. Each golf cart rental is verified cleaned and inspected before pick up or delivery. A battery charger is supplied if an electric cart is rented. If a gas cart is rented, it is fully fueled and ready to go.
We guarantee our golf carts to be the best!
*Delivery options are available - depending on distance, additional fees may apply.
Call 843-650-2497 or use the form below to reserve your golf cart today!