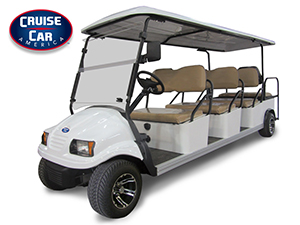 Our 8 Passenger Choice LSV is the ultimate golf cart rental because unlike normal golf cart rentals they are "Night Time" legal along with more safety features such as seat belts, turning signals and side mirrors. There are also no distance restrictions or laws imposed.
This is the Cruise Car America Model M8BTB
Each golf cart rental is verified cleaned and inspected before pick up or delivery. A battery charger is supplied when the electric cart is rented.
We guarantee our golf carts to be the best!
*Delivery options are available - depending on distance, additional fees may apply.
Call 843-650-2497 to reserve your golf cart today!